The Glenville shootout of 1968 is another interesting episode in the race relations of the United States.
A four-hour gun battle occurred on the night of July 23–24, 1968 in the "African-American neighborhood of Glenville on the east side of Cleveland. The Black Nationalists of New Libya exchanged shots with the Cleveland Police Department from apartments and homes. By the end of the night, seven men had been killed, including three police officers, three black nationalists, and one civilian. Several houses in the Glenville neighborhood were on fire, and at least 15 individuals were injured; more casualties may not have been reported due to neighborhood fears of police."
The gun battle sparked the Glenville Riots, which began on the evening of July 23 as the battle was winding down, and continued through the evening of July 26–27.
It took the Ohio Army National Guard and the rest of the Cleveland Police to re-establish peace, but $2.6 million went up in smokes as cost of property damaged and looted.
Ahmed Evans was identified as the instigator of the gunfight. He was found guilty of murder and sentenced to death. His sentence was later commuted to life in prison by the Supreme Court upon appeal. Evans was taken into custody, along with 17 other African-American men and women. He was eventually charged with first-degree murder for the seven slain, and three of the teenaged black nationalists were charged with first-degree murder, shooting to wound and possession of a machine gun.
What then was the source of anger of Evans and other African-Americans who faced dire living conditions?
The city of Cleveland had a higher rate of unemployment by the 1950s. A good number of African Americans who left the Deep South during the Second Great Migration came to Cleveland to erk a living and raise families but racial segregation and racially discriminatory housing practices left most African-Americans able to find housing only in the city's eastern neighborhoods.
By 1960, the population had increased from 150,000 in 1950 to 250,000 with the Glenville neighborhood being overwhelmingly white, middle-class, and Jewish in 1950, however, by 1960, Glenville was overwhelmingly black and poor, living in crowded, substandard housing.
Racial tensions escalated when the city began busing African-American children to all-white schools in order to racially desegregate its schools but the children were barred from participating in arts, sports, and after-hours activities at these schools.
It didn't help that while the United Freedom Movement, a coalition of black civil rights groups were persuaded to cancel its plan to stage a protest march in January 1964, the Cleveland Police looked on as a white mob and white citizens threw rocks and bottles and assaulted any African American person they found on the streets on January 30, 1964.
Cleveland's Black Power movement grew substantially in 1964 and 1965, as African American residents of the city viewed the Murray Hill riot as a symbol of their powerlessness. The New Libya group thus represented a body which shared their scorn of the system and given it was not shy to use violence when aggressed upon, it attracted many Blacks. Fred Evans was a leader of the group.
Evans was a Greenville native born in 1931 whose family relocated to Cleveland in 1943. By 1948, Evans dropped out of high school and enlisted in the United States Army. He served in the Korean War, where he won several medals for meritorious service being discharged only because he sustained an injury.
Army physicians had concluded that his 1952 injuries had left him with migraines, partial disability, epilepsy, and a personality disorder.
On July 22, 1968, Cleveland City Council member George L. Forbes and Mayor's Council on Youth Opportunities director Walter Beach met with Cleveland Police Inspector Lewis Coffey at Cleveland City Hall about the Federal Bureau of Investigation's (FBI) claim that Ahmed Evans and his New Libya group were stockpiling weapons at Evans' home for an attack. Police doubted the report but decided that a surveillance team monitors Evans' home and movement.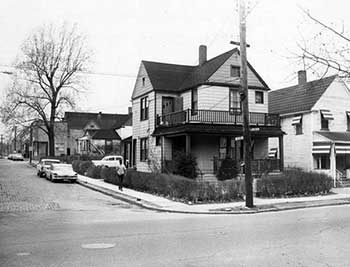 "On July 23, 1968, two police officers received reports of an apparently abandoned car on Beulah Avenue between East 123rd Street and Lakeview Avenue. They radioed for a tow truck to remove the vehicle. By the time tow truck arrived, dusk had fallen, making the tow truck operators' uniforms appear similar to those of police officers in the fading sunlight. Cleveland area residents often assumed tow truck operators were in fact policemen in the late 1960s.
"According to witness William McMillan, one of the tow truck operators on the scene reported that while exiting his truck, he was shot by a man wielding a shotgun from the side of a house on Lakeside Avenue. McMillan tried to take cover near his truck but was shot in the side by "another sniper…firing from the bushes just in front of the truck." McMillan later testified that he was shot a third time while running away from the shooter. McMillan identified the man as Evans.
"According to Patrolman James O'Malley's court testimony, one of the officers in the unmarked police car, a black man came out of 12312 Auburndale, crossed the street and aimed a rifle at the surveillance car. Alarmed, both surveillance cars left the area, but were pursued, and fired on by black militants. Patrolmen Thomas Gerrity and Thomas Horgan became aware of the situation via police radio and saw McMillan being chased down the street by a black man. The patrolmen's vehicle was hit by gun fire, and the police returned fire at the two snipers hiding behind the tow truck. The shootout escalated as more police arrived on the scene. According to Lieutenant Burt Miller, snipers fired at police from two corners of Lakeview and Beulah.
"Conflicting reports exist regarding when the police and tow truck drivers arrived. The sequence is not certain. Evans did not believe his group ambushed police, rather he concluded that "We were ambushed, not the police." According to Evans, he was walking on Lakeview Avenue when he heard the first shot. He saw the tow truck operator running along Beulah. This was followed by what Evans believed was a submachine gun blast that killed Amir Iber Katir, one of his followers. Evans' testimony was consistent with several reports that the first person killed on the scene was a black nationalist."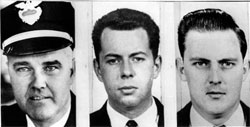 During the course of the shootout, Patrolman Louis Golonka, Patrolman Willard Wolff, Lt. Leroy Jones, and civilian James Chapman were killed. Several of Evans' followers also died. By early morning on July 24, 1968, the initial chaos subsided. Police received a message on their radios: "1384 Lakeview: front door open, man wants to give himself up, wants [to surrender to] Negro policemen." Three white officers responded; as they approached the home, Evans emerged.
Evans asked the police "How are my people?" When police told Evans that three or more of his group were killed, Evans replied "they died for a worthy cause." He told the officers "If my carbine hadn't jammed I would have killed you three [officers]." One of the officers asked why Evans started the incident, to which Evans is said to have commented, "You police have bothered us for too long."
Evans died of cancer in prison on February 25, 1978 aged 46.