Luxury cars belonging to controversial Equatorial Guinean Vice President Teodorin Obiang Nguema which are worth over $10 million have been put up for auction by the Bonhams auction house in Geneva.
His private collection of 25 supercars, hypercars and luxury motor cars have been put up on the United Kingdom-based auction house's website since last month ahead of the September 29 auction date in a 12th-century abbey in Geneva, next to the Bonmont Golf & Country Club house overlooking Lake Geneva.
The cars include an Aston Martin, Bentley, Bugatti, Ferrari, Koenigsegg, Lamborghini, Maserati, Mercedes-Maybach and Porsche, with models ranging from hypercars to luxury convertibles and limousines, stated Bonhams.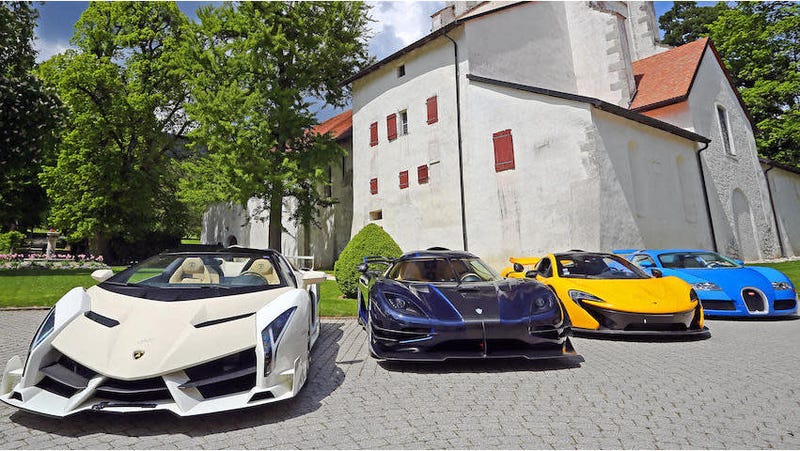 It highlighted some of the vehicles and their estimated value including a McLaren P1 ($1.5 million to $1.8 million), a Koenigsegg One:1 ($1.8 million to $2.4 million), a Lamborghini Veneno ($5.3 million to $6.3 million) and a cheapo Bugatti Veyron ($720,000 to $920,000), Ferrari – La Ferrari ($2.6 million to $2.8 million) and an Aston Martin One 77 ($1.4 million to $1.8 million) which would all be auctioned at no reserve, which means the cars would be sold regardless of price.
According to the auction house, the cars are being offered for sale by the State of Geneva and the sale will be conducted by State Auctioneer for the Geneva State, Mr. Mauro Contessotto.
Bonhams stated that it expects to realise in excess of $13 million after the auction.
The cars were seized in 2016 by the government of Switzerland on suspicion of money laundering and mismanagement of public assets, charges he denied, claiming he did not own the vehicles. This was immediately followed by the seizure of his 250-feet luxurious yacht worth $120 million by the Dutch over the same charges.
The Geneva Prosecutor's Office closed the investigation in February 2019 and stated that Equatorial Guinea had agreed to pay Geneva authorities $1.3 million in "procedural costs". It added that all profit earned from the sale of the luxury vehicles will go toward social programs that will help the people of Equatorial Guinea.
It did not state who the owner of the vehicles was but added that the "Ebony Shine" yacht has been released.
In 2017, the Equatorial Guinean president's son was convicted by a Paris court for embezzling tens of millions of dollars from his government and laundering the proceeds in France. His assets in France valued at over $115 million were also seized.
The now 51-year-old plundered the public funds between 2004 and 2011 when he was agriculture minister under his father Teodoro Obiang Nguema Mbasogo, who has been in power since 1979.
The country failed to stop the Paris court from trying him in the case that was opened in January 2017. He was handed a three-year suspended jail term and a suspended fine of €30 million ($34 million).
Earlier in 2014, the lavish vice president also handed over $30 million worth of properties to U.S. officials including a large villa in Malibu, California, and a dozen luxury cars, but kept his $38 million private jet and Michael Jackson memorabilia.
In 2011, 11 of his luxury cars in France were seized by Paris police and later auctioned off in 2013 by a Paris auction house.
He doesn't seem to stop his lavish spending anytime soon as in 2018, Brazillian customs uncovered and seized $16 million in cash and luxury watches after he arrived in the country on a non-official mission.
According to O Estado de São Paulo, Brazilian police found $1.5m in cash in one bag and watches worth an estimated $15m in another. The act was flagged as Brazil only requires people to enter the country with no more than $2,400 in cash.
His father, President Teodoro Obiang Nguema Mbasogo has been in power since 1979, after ousting his uncle Francisco Macias Nguema in a military coup.
Over the 37 years he has been in power, President Mbasogo has been accused of corruption and abuse of power. His nature of rule is regarded as non-democratic, especially since the country's opposition is hardly tolerated.