It's been 22 years since Nigerian pioneer of the Afrobeat music genre and human rights activist, Fela Anikulapo Kuti, passed away on August 3, 1997, but his musical legacy lives on, as well as, his music temple named the Shrine.
Fela was born Olufela Olusegun Oludotun Ransome-Kuti on October 15, 1938, to mother Chief Funmilayo Ransome-Kuti and father Reverend Israel Oludotun Ransome-Kuti in Abeokuta. Fela is a first cousin to the Nigerian writer and Nobel laureate Wole Soyinka.
The multi-instrumentalist, musician and composer schooled at the Trinity College of Music in London in 1958 where he formed Koola Lobitos, playing a fusion of jazz and highlife before returning to the newly independent Nigeria Federation in 1963.
With Ghana having a vibrant and thriving highlife music scene which saw the utilization of local languages such as Twi, Ewe and Ga, as well as, incorporation of rhythms from the guitar and drums, Fela visited Ghana in 1967 to distil his musical thought, embrace his African roots and fulfil his true destiny.
In Ghana, with the clarity he found in highlife and African philosophy preached by Ghana's first president Dr. Kwame Nkrumah, Fela branded his music Afrobeat – a combination of funk, jazz, salsa, Calypso and traditional Nigerian Yoruba music.
Upon returning to Nigeria, Fela founded a communal compound-cum-recording studio and rehearsal space he called the Kalakuta Republic, and a nightclub, the Shrine.
Powerful moments ?? pic.twitter.com/Vr12WYMD0c

— Anthony Joshua (@anthonyfjoshua) July 17, 2019
In 1969, Fela took his band to the United States where they spent 10 months in Los Angeles and came into contact with Black Power Movement through Sandra Smith (now Sandra Izsadore), a partisan of the Black Panther Party. The band was later renamed Nigeria '70.
In 1971, Fela established a nightclub at the Empire Hotel in the Mainland area of Lagos called the Afro-Spot, later naming it Kalakuta Republic after the Kalakuta cell in which he was kept during one of his many arrests.
In 1977, Fela and the Afrika '70 released the album Zombie, a "scathing attack" on Nigerian soldiers using the zombie metaphor to describe the methods of the Nigerian military.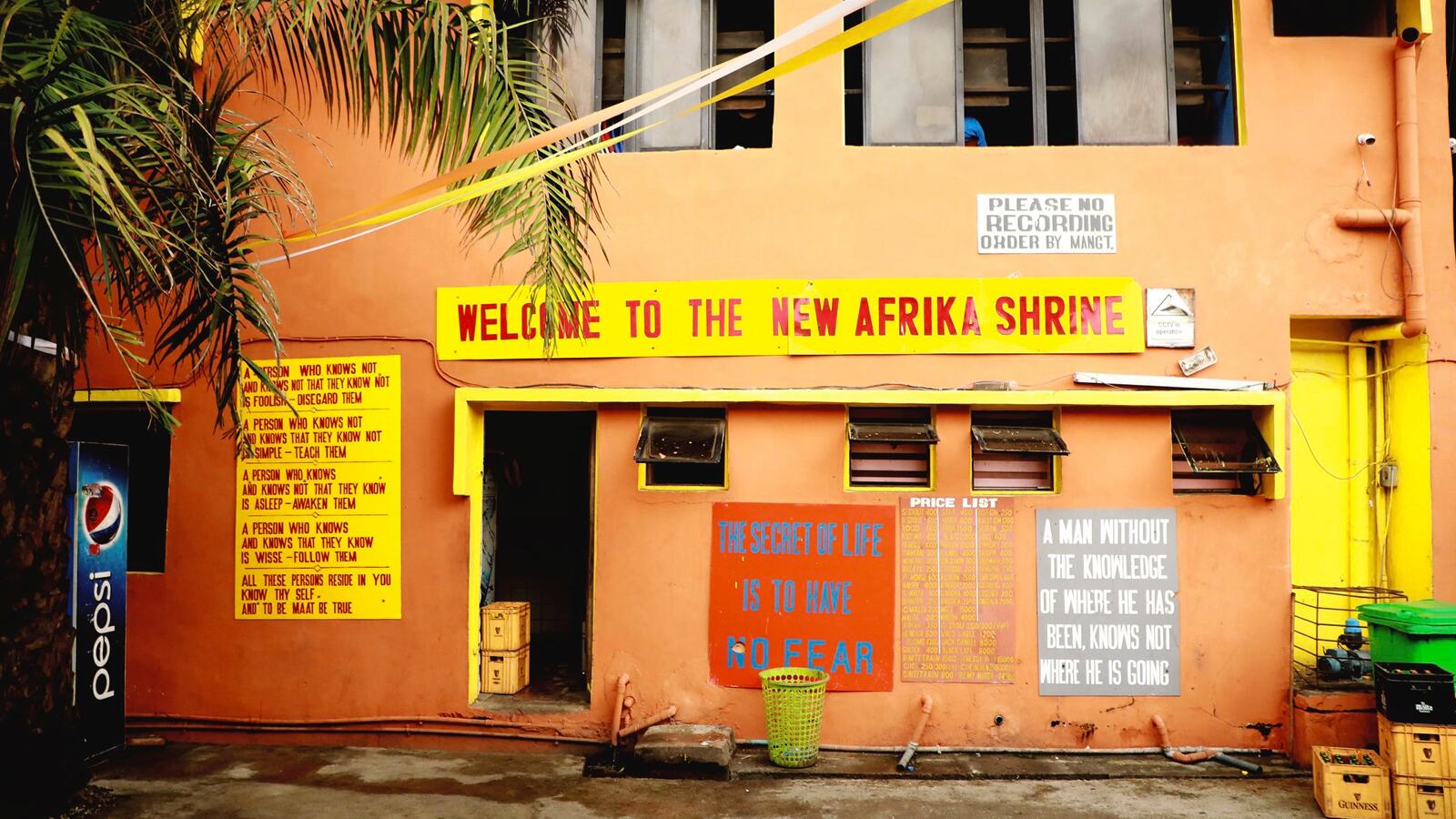 This infuriated the General Olusegun Obasanjo government, leading to the Kalakuta Republic (the shrine) – a commune where Fela's studio, instruments, and master tapes were located – to be set on fire with 1000 soldiers ensuring firefighters could not reach the site to extinguish the flames.
Even more troubling was when Fela was severely beaten, escaping death by a whisker while his 82-year-old mother (whose house was located opposite the commune) got thrown from a window leading to her death months later. Fela himself suffered a fractured skull, as well as, other broken bones.
In 1960, Fela married his first wife, Remilekun (Remi) Taylor, with whom he would have three children (Femi, Yeni, and Sola). However, in 1978, he married 27 women and would later engineer a system of keeping 12 simultaneous wives.
A good number of the ladies were his dancers, composers and singers. Fela and his band returned to the Crossroads Hotel since the attack on the Shrine.
Fela Kuti's 'Afrika Shrine' became a centre to honour the ancestors with music and ceremony having relinquished his Christian faith and embraced his Yoruba roots.
The embrace of his African roots also led to the adoption of Anikulapo, a Yoruba name that translates roughly as "He Who Carries Death in His Pouch."
In 1984, Muhammadu Buhari's government jailed Fela on a charge of currency smuggling but the charge was widely denounced as a rouse. It took 20 months for him to regain his freedom. Upon his release, Fela divorced his 12 remaining wives, claiming marriage bred jealousy.
On August 3, 1997, Fela was declared dead by his brother who was Minister of Health Olikoye Ransome-Kuti aged 58. He said the prolific musician died from complications related to AIDS.
More than one million people attended Fela's funeral at the Tafawa Balewa Square in Lagos Island with him lying in state. Fela offered 50-something releases, however, critics point out he was sexist. This was a curious situation, considering his mother was one of the earliest women's rights advocate in Nigeria.
Nowadays, the New Afrika Shrine has opened its doors to the public, relocating from the old site which it turned out was given on lease and not sold outright as Fela had reckoned.
His son, Olufela Olufemi Anikulapo Kuti, popularly known as Femi Kuti, also a musician, states: "The Shrine is a refuge for the youth in Lagos—it's a place where you can come and be free, maybe get a job, have a community—and these are some of the young cats we met there."
The current Shrine in Lagos functions as a kind of hybrid performance space, a temple of worship, and drop-in center.
In 2000, according to Femi, when some money had been raised from licensing his father's back catalog, his mother and sister decided to build the New Afrika Shrine in Fela's honor.
To take it a step further, they made it a place where African greats like Martin Luther King, Malcolm X, Lumumba, Thomas Sankara and others are celebrated.
The New Afrika Shrine is three or four times bigger than the old shrine, holding around 2,000 people, with musicians, dancers and security clocking 150 as persons who work there.
Despite its fame and popularity, as recently as 2009, the governor of Lagos state closed the Shrine. However, with the wave of outcry from Europe and America, the police raids have seized.
French President Emmanuel Macron recently visited the shrine to officially launch the 2020 Season of African Cultures in France and oh there is that little held whispering talk of Fela hosting Jamaican music notable Shabba Ranks at the Shrine of old where the pair broke bread with weed.
Soon enough, the potency of the weed also called egbo (weed) in Nigeria, proved overpowering, sending the dancehall strongman to sleep.