Cori Gauff had never played in a Grand Slam event. And for the first time she did, the 15-year-old completed one of the biggest upsets in Wimbledon history – defeating 39-year-old and five-time Wimbledon champion Venus Williams in the first round of the tournament.
On Monday, Gauff, who goes by the nickname "Coco," beat Williams in straight set, 6-4, 6-4, becoming the youngest woman to win a main-draw Wimbledon match since Jennifer Capriati defeated defending champion Martina Navratilova in 1991.
"Honestly I don't really know how to feel," said Gauff after she won.
"This was the first time I ever cried after a match. While winning, obviously. … I never thought this would happen. I'm literally living my dream right now. And not many people get to say that. I'm just happy that Wimbledon gave me the opportunity to play," the Florida native, who was ranked No. 313 in the world entering Monday, said.
Wimbledon veteran Venus Williams, who has played in 16 Grand Slam finals, had this to say of her opponent after the match:
"She put the ball in the court, which was much better than I did. She served well, moved well. It was a great match for her."
Gauff was born on March 13, 2004, and had, therefore, not even been brought to the world when Williams, who would be her idol, reached her four of nine Wimbledon finals.
But the African-American tennis prodigy has risen in her field over the years, winning several junior titles before making it to Wimbledon this year.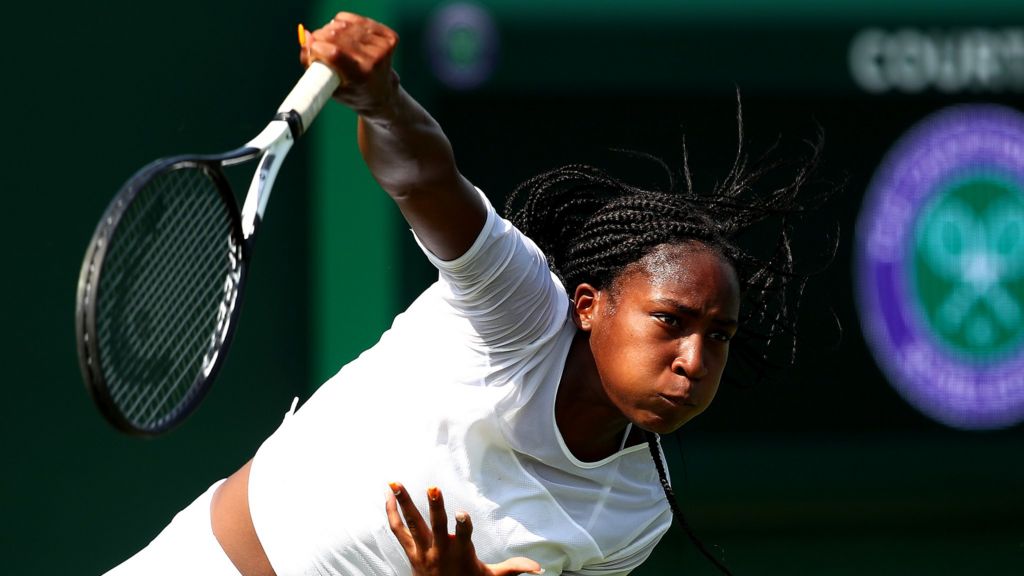 In order for the 15-year-old to make it to Wimbledon, she had to qualify. She passed three rounds of qualifying, including defeating Belgian Greet Minnen 6-1, 6-1 in the final. Minnen is ranked 154th in the world.
Having started playing tennis at the age of seven, Gauff's appearance in the All England Club on Monday comes just two years after she became the youngest player to reach a U.S. Open junior final, aged 13. Last year, at the French Open, she became the youngest female to win a Grand Slam qualifying match at 14 years old.
Being newer to one of tennis' biggest tournaments, Gauff said she made sure that she was not overwhelmed by the stage at Monday's event.
"I definitely had to tell myself to stay calm," she said. "I had never played on a court that big. But I had to remind myself that the lines on the court are the same size. Everything around it might be bigger, but the lines are the same. After every point, I was just telling myself to stay calm."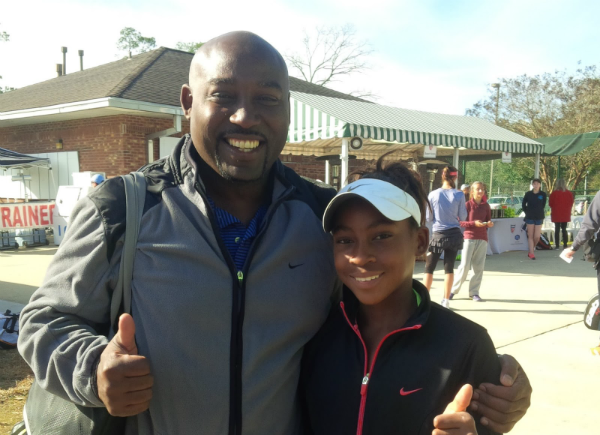 Gauff's tennis career peaked when she was 8 years old after her family moved from Atlanta to Delray Beach, Fla., where she still lives. Coming from a family of athletes, Gauff's coach has been her father, Corey Gauff – just like many famous athletes, including Venus and Serena Williams.
Gauff's father, a former Georgia State University basketball player, trains his daughter at Serena William's coach Patrick Mouratoglou's French tennis academy, according to the New York Times.
"I've always challenged her, from the beginning of this when we started, telling her that she'll be able to change the world with her racket," Corey Gauff said of his daughter.
Gauff's mother, Candi Gauff, was also once a star athlete, competing for Florida State University's Track and Field in the heptathlon. Both parents were at the stands at the All-England Club on Monday as they cheered their daughter on while she was bringing down the tennis champion Venus.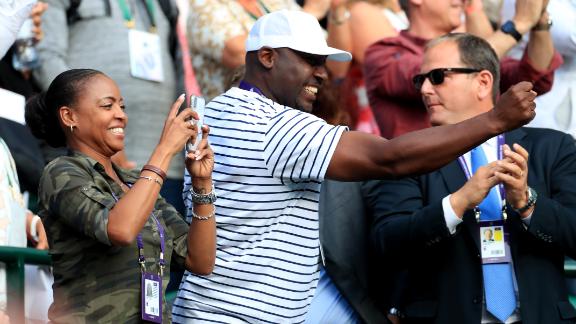 Venus and Serena have been role models for the young tennis star. Before Monday's match, Gauff had even said that she would love to share the court with Serena or Venus. After the match, the high school student said Venus congratulated her and told her to "keep going and good luck."
"I told her thank you for everything she did … I wouldn't be here if it wasn't for her. And that she's inspiring. Even though I met her before, I guess I had the guts to do that," the youngster was quoted by USA Today.
Gauff may be new and young in the game, but she has already begun achieving success as she is sponsored by huge brands such as sneaker and athletic wear New Balance, which she is usually seen wearing at matches and on her Instagram.
Recently, she announced a multi-year sponsorship agreement with the pasta brand, Barilla, which also sponsors another tennis great, Roger Federer.
When Gauff is not playing tennis, she enjoys similar things that her age-mates do. Her favourite musicians are Jaden Smith and Ariana Grande, whose Sweetener tour concert she recently attended, according to People.
Gauff also loves social media and recently used her various social media handles to ask for donations for victims in Sudan's crisis.
On Wednesday, all eyes will be fixed on her when she takes to the court for her next match. Gauff will play Slovakia's Magdalena Rybarikova – 15 years her senior – in the second round, and the youngster would be expected to build on Monday's performance.