Diahann Carroll was an incredible woman, who broke racial barriers in casting and became a star of Dynasty. Carroll was the first black performer to have her own sitcom, which ran for 86 episodes (1968-71).
She was also the first to win an Emmy in the category of best actress in a leading role in a comedy series.
She also performed in the Broadway musical "No Strings", which highlighted an interracial romance without mentioning colour in 1962. Carroll portrayed an American fashion model living in Paris, who embarked on a romance with an American novelist, played by Richard Kiley. That the romance was interracial was largely incidental to the plot. The performance won her the Tony Award for best actress in a musical.
Carroll entered the world of showbiz at the age of 15, becoming a model. In the following decades, Carroll would become a singer, stage actress, as well as, performer for TV and the silver screen.
Born in the Bronx, New York on July 17, 1935 as Carol Diann Johnson, she had adopted that spelling 'Diahann' as a teenager when she began entering TV talent competitions. She was the first child of John Johnson, a subway conductor, and his wife, Mabel (nee Faulk) a nurse.
Her family moved to Harlem while she was an infant. She started singing with the Abyssinian Baptist Church in Harlem church choir when she was only six years. Carrol became a recipient of a Metropolitan Opera scholarship for studies at the New York High School of Music and Art.
After graduation she went on to New York University, majoring in sociology. But she left before graduating to pursue a show-business career, promising her family, who insisted on her education that if the career did not materialize after two years, she would return to college. She never did.
Meanwhile, as a teen, she was modelled for Ebony magazine. She sang on television, in nightclubs, on recordings and on Broadway, where she won a Tony Award for best actress in "No Strings."
In 1954, Carroll was 19 years when she had a role in "Carmen Jones," Otto Preminger's all-black screen adaptation of Bizet's opera "Carmen." That was her breakthrough.
That same year, Carroll made her Broadway debut, in the role of Ottilie, alias Violet, in "House of Flowers," the Truman Capote-Harold Arlen musical set in a West Indies bordello. The next few years were quiet for her as she hardly got any role.
"I'm living proof of the horror of discrimination," Ms. Carroll said in late 1962, testifying at a congressional hearing on racial bias in the entertainment industry. "In eight years I've had just two Broadway plays and two dramatic television shows. I've asked repeatedly why. Surely I'm not so difficult to include."
Then "Julia" came along. She became widely known for the popular sitcom "Julia", the first American television series to chronicle the life of a black professional woman, in which she played a widowed middle-class single mother.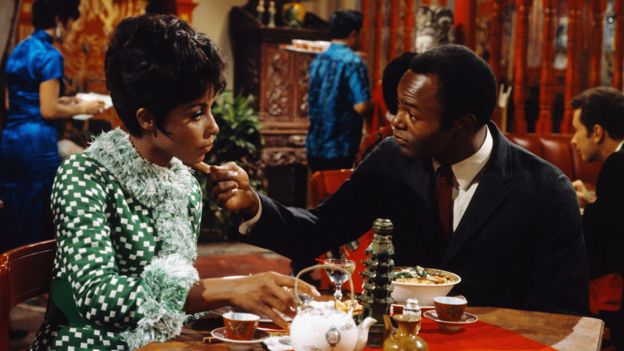 She had so many guest appearances in TV series. She played the role of Maya Angelou's selfish mother in an adaptation of the acclaimed autobiography I Know Why the Caged Bird Sings (1979).
However, according to The Guardian, she said it was her role as the sleek Dominique Deveraux, which made her "the first black bitch on television" in the glossy Dynasty (1984-87) and its spin-off "The Colbys", that brought her greatest fame.
Among her other TV series was A Different World (1989-93), a spin-off from The Cosby Show, in which she appeared in eight episodes as the mother of a southern belle; The Lonesome Dove (1994-95) and Grey's Anatomy (2006-07), for which she received a Prime Time Emmy nomination.
Onstage in the 1990s, she was Norma Desmond in the Canadian company of the Andrew Lloyd Webber musical "Sunset Boulevard," the first African-American to play the role.
She was the author of two memoirs, "Diahann" (1986), with Ross Firestone, and "The Legs Are the Last to Go" (2008), with Bob Morris. She was inducted into the Television Hall of Fame in 2011.
In 1997, she found out that she had breast cancer. Fearing what it would mean for her career, Carroll kept the bad news a secret. But she later overcame her fears and sought treatment.
Carroll said the diagnosis "stunned" her, because there was no family history of breast cancer, and she had always led a healthy lifestyle. She underwent nine weeks of radiation therapy and had been clear for years after the diagnosis.
After battling breast cancer and surviving in the 1990s, Carroll died at her home in Los Angeles from complications of breast cancer.